Today we are happy to announce this year's keynote speakers at FSCONS,
Gabriella Coleman
and
Allison Randal
. [caption id="attachment_1203" align="alignleft" width="300" caption="Gabriella Coleman, Photo: webstock CC BY-NC"]
[/caption]
Gabriella Coleman
Gabriella Coleman is an academic and author with a background in anthropology who is focusing on online activism and hacker culture, recent work include studies of Anonymous. Currently she holds the Wolfe Chair in Scientific & Technological Literacy at McGill University, Montreal, Quebec, Canada. In her keynote "
Weapons of the Geek
" Coleman will discuss the unique elements within FOSS that constitute it as a site of political action, and contextualize free software within a wider field of geek and hacker politics. She will conclude it by marshaling this material to critically assess the concept of Web 2.0. [caption id="" align="alignright" width="255" caption="Allison Randal, Photo: linux_foundation CC BY-NC 2.0"]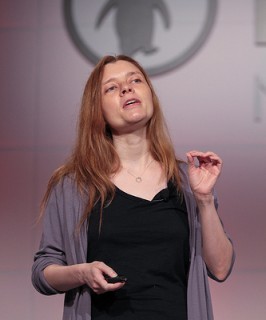 [/caption]
Allison Randal
Allison Randal is an experienced software developer, linguist and author. Besides working over 25 years as a programmer and language designer she have a served as a board member on several free software language foundations and written books about Pearl and the Parrot virtual machine. Currently she works for Canonical as the Technical Architect of Ubuntu. In her keynote "
Generous Innovation
" Randal explores how generosity, the deeply human instinct to work beyond one's own needs for the betterment of others impact the rapidly-changing technology landscape and explain why free software is the future.
Keynote dates
Coleman will give her keynote Saturday November 10 and Randal will give hers on Sunday November 11, both starting at 14.00. We are of course excited to have them as keynote speakers and hope they will enjoy speaking at
FSCONS
.