So this is the promised follow-up from our look at the survey results from FSCONS 2011. Let's head right on to the answers/results.
Collisions in the schedule
Question:
"Did you think the schedule was well distributed so that you could see all sessions you wanted?"

For me, there were no collissions:             37%
Some sessions conflicted and I had to choose:  33%
No comment/answer:                             30%

Some comments:
It is bound to happen when there's 4 tracks, but this kinda makes you see what you\'re really interested in. Would be nicer to have the streams available sooner.
Almost every single session conflicted, but that's because there were so many interesting subjects :)
I don't know how to avoid that. and it is fine. got to se a lot of intressting things anyway.
This is something I think can be hard to fix. most things was concerning technical vs. political when both were interesting. with people nowing that recordings will be online and in a somewhat timely manner it will ease the decision at place.
This is something I think can be hard to fix. most things was concerning technical vs. political when both were interesting. with people nowing that recordings will be online and in a somewhat timely manner it will ease the decision at place.
Difficulty level of sessions

It was the level I expected 	     32 	48.48%  
I expected it to be more basic 	      2 	3.03%  
I expected it to be more advanced     9 	13.64%  

Some comments:
I mostly, however, went to plenary and political sessions, not technical ones.
For most talks it was on a level decent to me. Some talks was over my head, and some below. This is because my interest varies in depth. But to emphasize to lecturers that they should think about that not everyone knows or are on the same level might help. But still, for a very technical topic you can be pretty sure most attendences is on a deeper level. With the right naming and info of the talk to set the level this helps of course.
Titles of sessions and their precision
Question: "Did you think the titles of the sessions matched the content of the talks?"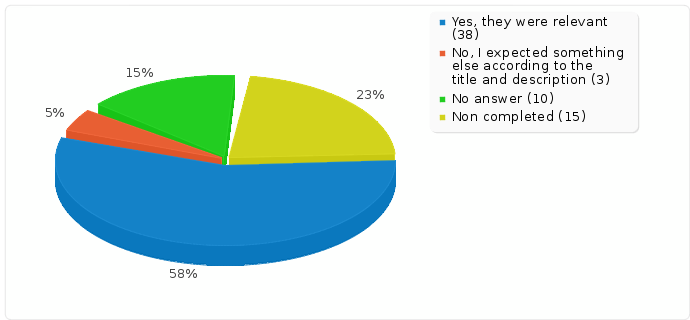 What did you think about the keynotes?
Some anwsers:
Both were great, different but both relevant.
Overall worked quite good for me.
I like both the length and time of day.
All was good except for the small room.
keynote on saturday could easily have been made 30 min longer..
Was it good to have two keynotes, one on each day?

Yes, one each day was enough (yes) 	                       31 	46.97%  
No, I'd prefer to have more keynotes (please specify) (no) 	3 	4.55%  
No, I'd prefer to have only one keynote (one) 	                2 	3.03%  
No answer 	                                               15 	22.73%  
Non completed 	                                               15 	22.73%  

What did you think about the lightning talks session?
Some of the comments:
Make sure the talkers know it´s a LIGHTNING TALK. Give them hard time constraints. The guy from Finland talking about rendering, his talk was fine, but if he´s going to talk for more than 5-10 mins, then please schedule him somewhere else than where people are trying to talk and drink beer.
Not as good as last year. Mostly due to some technical problems.
Good. Getting lightning talk man to host it was a good idea.
that was new to me. but a very good thing to have. learned about a lot i may want to know more about later. Sign up procedure was a bit confusing. it was not clear if there was a priority to the list, and i did not know about it until the second day.
What was your impression of the gender distribution of the speakers?
Some comments:
The focus should be on getting the best speakers regardless of gender, nationality or skin colour. When compromises are made to "fill up the quota" the quality of the talks will go down.
Half of the talks I attended had female speakers.
It was clearly less female participation on the speaker side, but then it was also less females in the audience. I think getting a large female share of speakers is something FSCONS should strive for.
I believe that the focus of gender is unimportant.
I would like more women speakers. This year was better than last though! I think it is vital to the free software movement, that we have to include and promote more women. It is good for the community to have a broad base of fellows.
What are your thoughts on the workshops?
I would had liked to participate in the Arduino workshop, but men where not allowed.
Did not attend, but thumbs up for all-women arduino ws!
i loved them! the change of venue is suboptimal ofcource, but not a very big hinder. Loved the different topics of workshop, and that some allowed for beginners to join. (this is not a very anonymous survey if i say this but hey...) The arduino workshop was wonderfull! and i hope it will be repeated. but workshops should be more visable in the schedule, i found them only by accident.
I did not attend, since it was a work day. Unsure about how that should be organized tough.
It would be nice to have a central place to get informed about the outcome of the workshop. I thought two different venues not ideal, but it provided the opportunity to see more of Gothenborg :)
What did you think about the topics, tracks, or themes of the conference in general?
Some comments:
More talks on security and pen-testing perhaps. An emphasis on Free Software. People were holding talks on their Macbooks using MS Powerpoint!?!
Good. I especially liked the one about cryptocurrencies.
It is a very nice conference. Small scale, but has potential to grow. Find somewhat more interaction with the local industry and universities.
Great, I especially liked the less technical tracks.
I'm primarly a technical person. I\'m always a bit scared that FSCONS will go too much into political, humanist and cultural subjects and keep too little tech stuff.
When you first heard about FSCONS, was it easy for you to get any needed information? And what was your primary source of information?
Some comments:
The fscons site. The schedule of the talks is often defined very late.
Was easy to find the needed info on your website. But I'm from Gothenburg :P
Read about it on the internet. Because I'm Swedish I found out about it doing a search for free software in Swedish. Then I used your site for information.
Yes. The web page maybe had a few too many steps to find the information needed about venue, transport, &c.
During the conference, could you get all the information you needed?
Yes. Helpful webpage, signs, booklet, other participants and staff.
yes, great web site this year with a good schedule overview!
Yes. I used the web page and it worked out for me. And I also had some question that the volunteers most helpfully sorted out for me.
Yes. Online schedule was hard to read though, especially on smartphone. Better if the talks could be seen more on a single viewport without so much scrolling.
I never figured out what talks that was streamed, or recorded. it would have been useful to know when entering the room. or in the program.
I suggest larger posters with the actual schedule close to the stairs.
streaming of talks I didn't know about. but didn't really search for it either, just thought you weren't doing it. really great pointing out restaurangs on the map. but there are more that could be pointed out, i bit more towards lindholmen. but perhaps everyone want pizza anyways but it can be pretty ddosed.
Two of the sessions I was going to attend were cancelled and it would have been nice to hear about that sooner, but maybe it happened at the last minute.
Information did not go out very well for example when the schedule changed. You should have had an fscons-announce mailinglist for the conference. Also better infrastructure should be made available and advertised. I recommended this last year too but nothing has changed. You should define an official communications-channel where updates and information will be advertised. I don't know if there was one but I sure did not hear of it. Also make IRC the primary communications channel for the event. One channel per room to allow people discuss the talk in real-time and prepare questions. This would allow people who watch streams to ask questions in an easy way.
After the conference, if any, what kind of information would you like to get from FSCONS? And how would you prefer to get it?
All slides (recordings) publicly available. Contact info for the speakers, including lightning talks. An email reminder would be great when things are up.
Yes! I would like you to release the recorded talks faster this year. Also you should record all talks and stream them live.
On the webpage. How did it go? Reactions from organizers and speakers. Pictures perhaps.
Newsletter by mail, news articles on your website or perhaps a small leaflet in the snailmail box.
Maybe some sort of a conclusion based on this survey. An update sent out by e-mail to those who interested.
The website should include general information after the conference: how many attended, who got the award. Maybe even some financial details if you want to solicit donations/support. Maybe a "credits" page naming and thanking volunteers, speakers, sponsors etc. This also could help with fund-raising for subsequent conferences. Links to photo albums, slides and/or recordings would be really great and could again raise awareness of the conference (and sponsors). An e-mail announcing when all those things were up and visible would be nice too, so people could spread the word and link back to the things they liked.
The videos on Vimeo. I would like to be notified of them being available, but a tweet about it is good enough.
Info about future FSCONSs and *related* activities (not general spam)
Do you have any suggestions or preferences for new means of communication, before, during and, after the conference?
Is telepathy an option?
Set up a mailing list that is advertised as the official communications channel. This should be complemented with IRC. Don't use micro blogging such as twitter. This limits the involvement of the community by making in depth discussion impossible. And no archive of the discussions will be available on the Internet.
I would like FSCONS to settle the list of speakers and schedule a little earlier, so that more people have longer time to actually see who's going to go there and what they will talk about and use that as a decision factor if going there or not.
You provide a wireless Internet connection, but it wasn't anonymous and it was linked to our name. That's symbolically bad. If you're required by law to do that in Sweden (I don't know), that's a battle worth fighting.
HTML5 mobile app, which can be then automatically packaged for multiple mobile OSs.
I'm old school. Maybe an FAQ on your site for practical info and statistics?
Live video of the talks in the cafe to view the slides. Optionally with audio access by phone+headset.
Maybe people could give their telephone number and get a text message in the event of changes in the schedule. But maybe that\'s too expensive with that many foreigners?
Do you have any comments regarding the facilities during the conference?
Excellent. The dangling from the roof power outlets are a bit noisy, but that's more an issue with people deciding they need power in the middle of a talk.
Great venue. The first year it was a little hard navigate the rooms but this year (my second) I found my way much easier.
I love the casual atmosphere as I believe it helps to build the FSCONS spirit.
Nobody really used the lounge on the ground floor, not sure why. Pizza was good, and easier than getting it direct. List of nearby eateries with opening times on fscons website was very useful.
a very good facility. clean, sittingplaces with tables, and with power.
Mugs markable with one's name. Coffee tastes better that from paper cups. Draft beer in the evening.
Wonderful! I love the IT University! Clean, easy to navigate, a wonderful venue.
A few more power outlets would have been nice.
How did you like the social events arranged at the FSCONS conference?
It was really nice. Having it in the same facilities made it convenient and cozy, even if I really liked the social event "elsewhere" too as it was done in 2010.
Drinking beer after the talks - BRILLIANT! :)
* please please setup some sort of slot for gathering of newcomers to the conference so that they can socialize (i for one felt wery unwelcomed since i had not met any ppl before) - scheduled/stated on homepage/whiteboard * maybe arrange "newcomers-lets go to lunch together"
There is a need for a pub-ish atmosphere. So either make a pub, or move to a pub.
to have activities is fun, and easyer to get to know people, if you are not so good at mingeling.
I prefer a different venue. It more clearly separates the social event from the conference.
A different venue not too far away would have been better.
They were great. Except for the fire alarm which was fun, too, but it cut off a lot of conversations and I wanted to get some contact info from a few people I didn't see again. Maybe, it would be good to have a designated "alternate" social event location announced previously on the website for people who want to party beyond the official time boundaries and probably some guidance how to get there. The info of the ad-hoc alternate location apparently didn't reach everybody who actually wanted to stay and we ended up with about 10 people there and I didn't see a lot of faces who told me that they want to go there. I doubt that I would have found it without guidance of a local. But all this is not much of a big deal, the conference was great even without the social events.
They didn't really feel like events. It was more a room with a bar, which was fine but some more free music etc might be nice.
Healthy food is okay and good, but some more meals with meat would have been better. There were tons of vegetarian food but less meat food. ;-)
much better this year. not having to move from the venue. all good.
Social events for computer nerds, isn't that a contradiction?
As a result of going to FSCONS, did any of the below apply to you? Please elaborate!

Did you: 
Make any new acquaintances?
Start or join any new projects or groups?
Acquire any new skills or interests?
Get inspired?
Any thing else you'd like to share? 

I met some people that might be useful
I had a nice discussion with rms. Which was very enlightening and fun.
I made new acquaintances, while talking between speeches and during the social event. It is a bit hard since you always end up talking to people you already know, but there\'s no easy solution to that. I got inspired. I find FSCONS one of the greatest inspirational sources during the year, simply due to all the energetic people and all the interesting topics you get to hear about.
I got very much inspired by the session "The future of Money". Let's see how it goes now :)
Met some new people and had some time to talk with old friends
I always make new acquaintances, that\'s part of my aim going to Conferences, which is quite of my own responsibility. I did not join or start any new project per se this year. There might be something lurking that will be started at a later time though. I always get inspired. ;)
Inspiration, skills. If you\'re not the social type (and you'd rather want other people to come and talk to you).. hmm... not that easy to meet new people (but from your own fault). I don\'t have a good coverage of what's happening on the web, so a couple of days at FSCONS fill me in.
Found out about a new tool that I\'ve already started to use in my work as an web developer. Most important is that I get inspired by a lot of the speakers to do better. Especially when it comes to promoting Free Software and Free Culture.
I was very inspired, made new contacts, didn't join any new groups, and did learn a new skill (kind of, learned about GNU Rec Tools).
It opened a new interest in open source software, and probably if times allows to start some project of mine own.
My two goals of having fun with cool people, while raising awareness of my projects were both achieved. :-)
That's all, folks! Please feel free to comment here on the blog if you have something you want to share with us or discuss! Regards FSCONS organisers